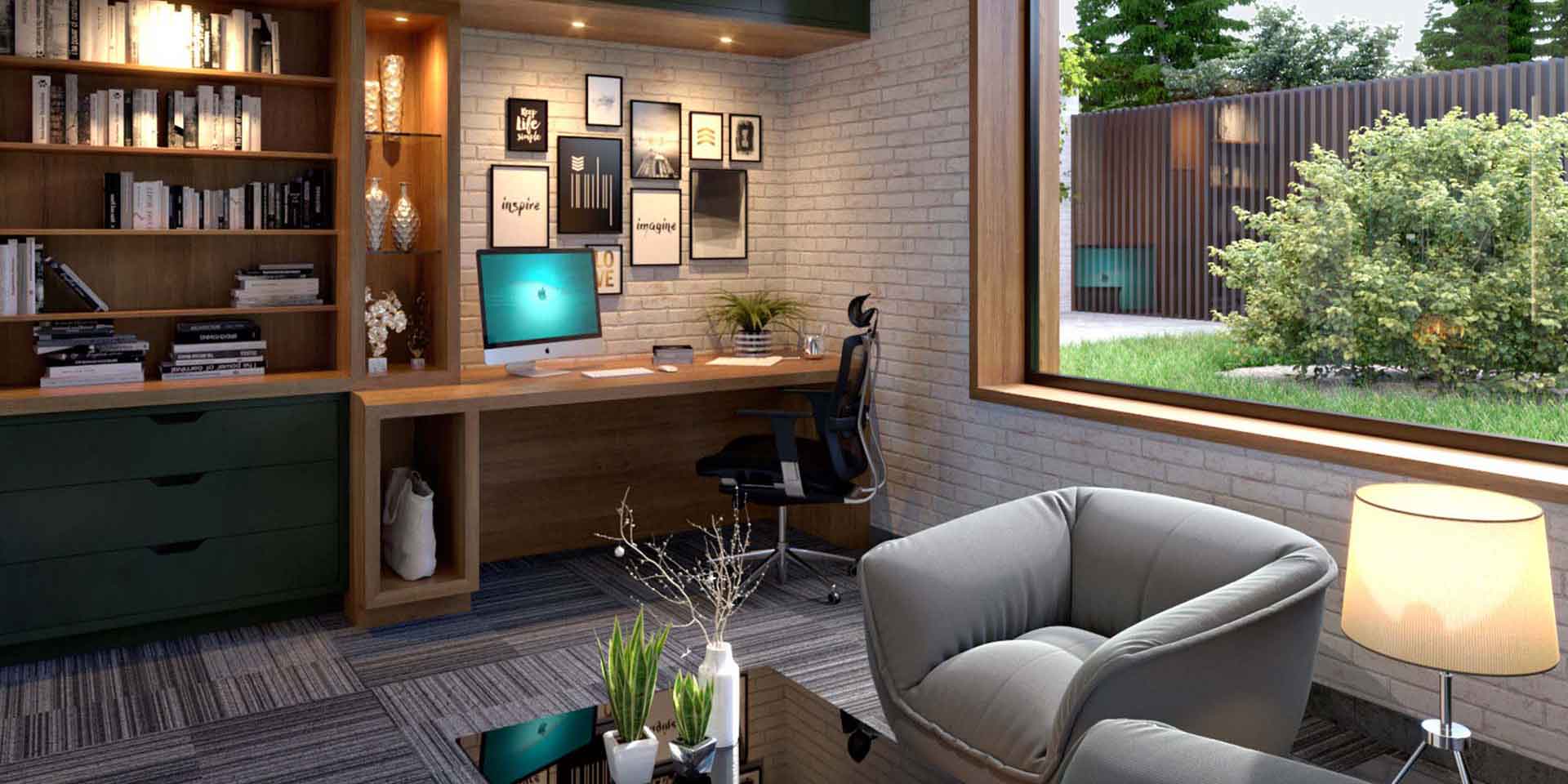 3D Interior Rendering of a Study Room
3D Architectural Rendering Firm in India | 3DArchPreVision | Consolidated Portfolio

3DArchPreVision is a recognized 3D Architectural Visualization Studio in India. We provide diverse 3D Rendering Services to architects, designers, and real estate professionals. We are really good at creating 3D Architectural CGI of building exteriors and interior spaces. Furthermore, we also create virtual tours, moving pictures, and detailed floor plans. Our main goal is to give our customers amazing visual images.
We use industry-leading software tools such as Autodesk 3dsMax 2024, Autodesk AutoCAD 2024, Chaos VRay 6, and Adobe Photoshop. This helps us create unmatched realism and versatility in our work. Our 3D architectural visualizations help architects and designers realize their imaginative ideas. This also enables clients to explore potential design possibilities even before execution of the project. These services are highly cost-effective. They assist in minimizing project planning expenses. At 3DArchPreVision, we strive toward innovation and excellence, maintaining an unwavering commitment to our clients for delivering unprecedented results in the sphere of architectural visualization.
Architectural 3D Visualization Firm in India | 3DArchPreVision | Portfolio
Rendering Services Offered
Our Architectural 3D Visualization Firm enhances how people share ideas about buildings. This helps architects, property owners, builders, investors, and project managers work better together and understand each other's plans.
Our 3D Exterior Rendering Services help everyone see what's good and tricky in future projects. They show how the designs fit the area, so people can decide right away.
Moreover, our services offer an invaluable platform for presenting project concepts to potential investors and clients. These compelling visual representations help in decision-making on property purchases and investments. In essence, architectural visualization emerges as a dynamic and persuasive marketing and design tool, fostering trust and engagement among clients and investors.
To fully grasp why 3DArchPreVision stands out as your ideal Architectural 3D Rendering Firm and Design Partner, we invite you to explore our 'About Us' page. There, you can delve into our design philosophy and discover our unique selling points (USP) that set us apart in the industry.
3D Interior Rendering
Interior 3D Architectural Visualization is the art of making detailed 3D images of indoor spaces exactly how clients want. Skilled Architectural CGI experts turn designers' ideas into digital art.
One of the remarkable benefits of this approach is its cost-saving potential. By bypassing the need for physical execution, it acts as a safeguard against budget overruns that can often occur during the construction phase. It offers an opportunity to mitigate unexpected expenses and maintain financial prudence throughout the project's lifecycle.
Furthermore, the real-time preview capability is a game-changer for our clients. It grants them the ability to explore and evaluate interior space designs as they take shape, allowing for adjustments and refinements that contribute to a more refined and precisely tailored final product.
3D Animation Rendering
Welcome to our world of 3D Animation Rendering. These 3D Rendering Services are used for Real Estate Marketing. We take pride in offering you a variety of formats to choose from to ensure your project's success.
Our expertise in interior animation rendering begins with crafting a well-defined 3D interior building model that covers the entire camera path. This model acts as the foundation of the interior space, and we deploy our strategic creativity to integrate the furniture, light fixtures, curtains, carpets, indoor plants, and people with perfection.
Our 3D models come from a range of sources and, along with our creative inputs and client feedback, ensure a seamless blend in the scene. We welcome you to explore our 3D Interior Animation work in our gallery and see for yourself why we specialize in 3D Exterior Fly Through Animation.
3D Floor Plan Rendering
3D Floor Plans breathe life into conventional 2D floor plans. They introduce a dynamic, three-dimensional perspective. This provided depth and height to transform designs and layouts into visually immersive representations. Every element, from structural details to furnishings, is meticulously rendered in three dimension. This ensures a captivating and engaging experience.
This representation closely mirrors how the human eye perceives space. It includes physical objects, spaces, and elements. In simpler terms, it offers a builder's view of the space under scrutiny or design.
While 2D floor plans excel at detailing the length and width of each area, essentially defining its functional space. 3D Floor Plans take it a step further by adding the crucial third dimension – height or depth. This elevation in visual presentation enriches the experience and forms the core of 3D Floor Plans' effectiveness.
For a deeper understanding and more examples of our work, we invite you to explore our 3D Floor Plan Rendering Gallery. If you have any inquiries or require clarification about our approach, please contact us. You can also visit our Frequently Asked Questions (FAQ) section or reach out to us through our Social Media Handles on the Contact Us page.
3D PhotoMontage Rendering
We, at 3DArchPreVision, an Architectural 3D Visualization Firm, is unparalleled in its proficiency in 3D Exterior Photo Montage Rendering. It is an essential tool for city planning approvals. Our Architectural CGI Photomontage services provide lifelike visual representations of architectural design concepts post-project completion. Our expert team utilizes a unique approach of blending creativity and reality with careful attention to details. This includes texturing & lighting to create photorealistic renders that enhance the client's experience. We understand the importance of incorporating the proposed building in the existing environment. This is done without compromising on natural elements, and site surroundings. Utilizing prominent features such as drone shots, neighboring buildings, human-eye level perspectives, and bird's-eye view angles to align our 3D models with actual site imagery's attributes. Let our team take on your next architectural project and deliver exceptional results that exceed your expectations.