Hits: 18
Exhibiting Our 3D Architectural Visualization Services Through 3D Exterior Visualization, 3D Interior Rendering, 3D Photo Montage Visualization, 3D Floor Plan Rendering, and 3D Walkthrough Animation.
3DArchPreVision is a 3D Architectural Visualization Studio. 3D Visualization is a virtual graphical representation of a building's exterior or interior space, aided by architectural design concepts, implemented using 3DS Max, created by a talented 3D Visualization Expert. They play a major role in realty sales pitches leading to an affirmative call to action by the clients. Other key software used is VRay Plugin and Adobe Creative Cloud. These are synonymous with the primary software to achieve photo realism. We provide Interior and Exterior Architectural Visualization Services.
3D Architectural Visualization, through Virtual Reality, makes it possible to take design-related decisions and course corrections well before the building or interior space is actually developed. Thus, they help to experiment with building design and its visual impact. Architects and Designers use them to communicate their creative ideas to their clients through this digital medium. It helps ensure that the client invests less money in conceptualizing planned projects before they are actually brought to reality.
Our Range of Photo-Realistic 3D Architectural Visualization Services is Showcased into 5 Broader Categories:
> 3D Exterior Rendering created by our 3D Architectural Visualization Studio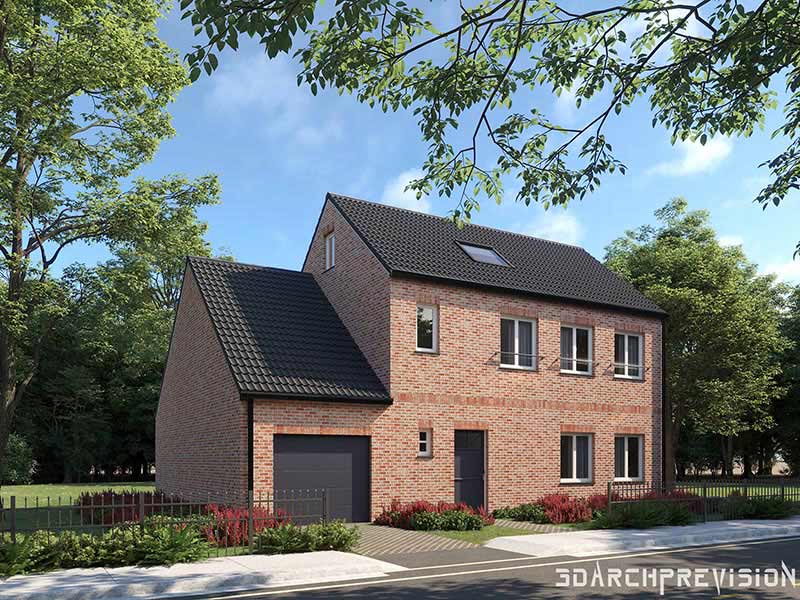 Exterior Architectural Visualization Services in the conceptual stage simplify the interaction between architects, owners, contractors, investors, and project executors, with high levels of interoperability. 3D Exterior Rendering Services will showcase the future construction benefits and drawbacks. It depicts the architectural advantages and correlation with the surrounding redevelopment areas in real time.
3D Exterior Rendering Services assists in showcasing a 3D CGI Exterior Rendering of the study project, to investors and prospective clients for observation and scrutiny, thereby enabling them to quickly reach an affirmative decision on buying or investing. Thus, it makes architectural visualization an effective marketing apparatus and design tool.
Please visit the 3D Exterior Visualization Gallery for more of our past completed works.
If at all you have a persistent question as to why you need to select 3DArchPreVision as your 3D Architectural Visualization Design Partner, then please do read our Unique Selling Proposition "USP" to understand us better and our design philosophy.
> Realistic 3D Interior Rendering created by our 3D Architectural Rendering Firm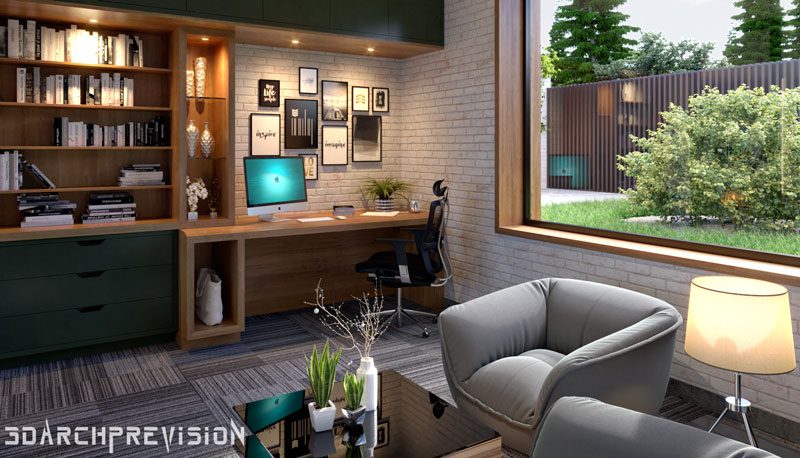 Interior 3D Architectural Visualization is the art of crafting 3D Illustrations of a planned interior space, as defined by the client's needs, envisaged by an architect or interior designer keeping the client's parameters in check, and finally given a digital form by a CGI Visualizer as per inputs provided by the project designer.
This form of 3D visual cum virtual reality design brings with it zero investments in actual execution, thereby ensuring no cost overruns occur during the ill-planned execution stage and the client's real-time inability to perceive final outcome of the interior space being designed and developed.
Please visit our 3D Interior Rendering Gallery to see more of our work related to Interior 3D Visualization.
> 3D Photo Montage Rendering created by our 3D Architectural Visualization Studio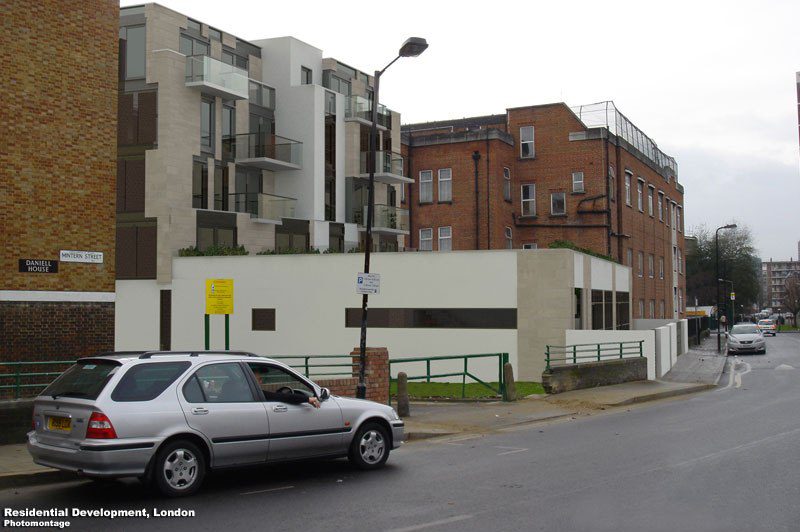 3D Exterior Photo Montage Renderings are enormously productive in client presentations for perceived outcomes in architectural visualization for a design concept, in real-time live surroundings. The image on the right depicts the same situation & outcome with before & after 3D Exterior Photo Montage Renderings.
They provide clients with better photo-realistic visual & virtual reality experiences of future architectural projects with their 3D model super-imposition, mapping, texturing, lighting & rendering being done on an actual site image. This synergy of creativity and reality is a win-win situation for both the 3D Visualizer and Developer.
This type of architectural visualization retains the existing buildings, environment, nature, and entourage of the actual site location with just the super-imposed 3D Model being rendered to scale & dimensions in its designated slot on the client-supplied actual site location pin. This is a pretty challenging task to accomplish.
The actual site photograph supplied could be one, taken at the human-eye level, birds-view, taken using drones, from adjacent or neighboring buildings, or from any idyllic spot, which the client desires. Accordingly, the view of the 3D model being generated will vary as per the camera angles and light settings, to match the characteristics of the actual photograph.
Please visit our 3D Exterior PhotoMontage Rendering Gallery to see more of our Photo-Montage-related work.
Albeit, you can also visit the Consolidated 3DArchPreVision Posts Sitemap page to peruse the various works with their individual descriptions.
> 3D Interior Animation Rendering created by our 3D Architectural Visualization Studio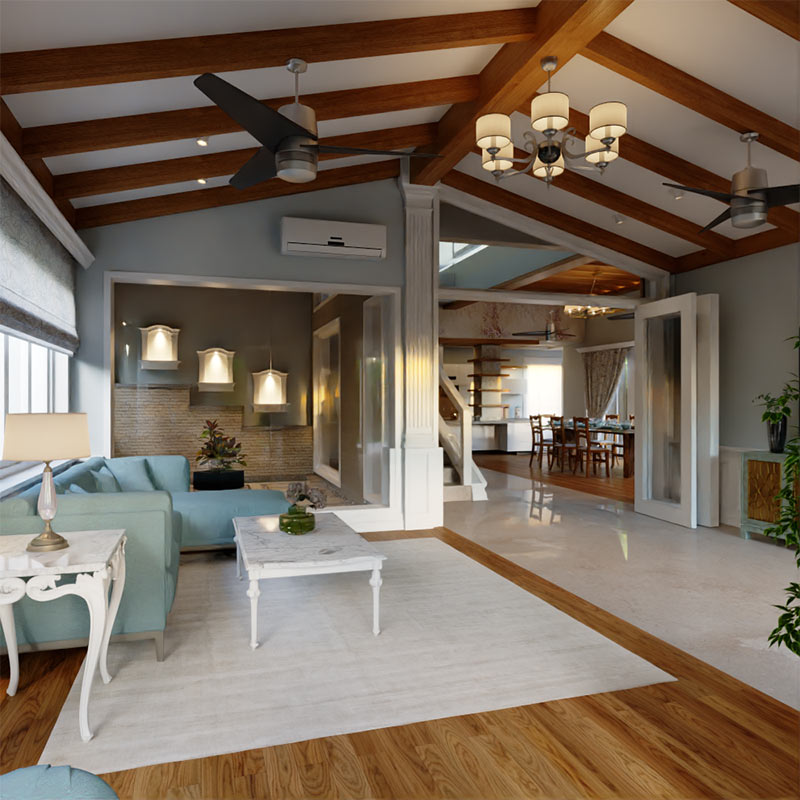 3D Animation Rendering is the process of rendering individual scenes in sequential order as defined by the render path. The scenes are stitched internally to create a render output which can be in the form of multiple video formats as desired by client.
Ideally, a 3D Animation Render Sequence is performed at 30 FPS to provide a smooth transition effect without any visible jerks and render noise. The rendered scenes are sequentially added together and created based on the project & client needs.
For interior animation rendering, the 3D interior building model is first created for the total defined path, which the camera will capture and render. This base model will be the interior space for all practical purposes.
After the bare-bone 3D building model has been created for the entire scene, various 3D models will be placed logically & strategically within the building model, thereby forming an integral part of the rendered scene. All of these processes will assist in generating, rendering, and delivering a synchronous, smooth motion graphics output.
These models will include furniture, light fixtures, curtains, carpets, indoor plants, people, and any other desired furnishing model from a vast repository of available 3D models, as per project necessity, our creativity, and client feedback. Sometimes these models are tweaked to match the overall composition of the rendered scene.
Please visit our 3D Interior Animation Rendering Gallery to see more of our 3D Interior Animation-related work. Similarly, 3D Exterior FlyThrough Animation is also done by us.
> 3D Floor Plan Rendering created by our 3D Architectural Visualization Studio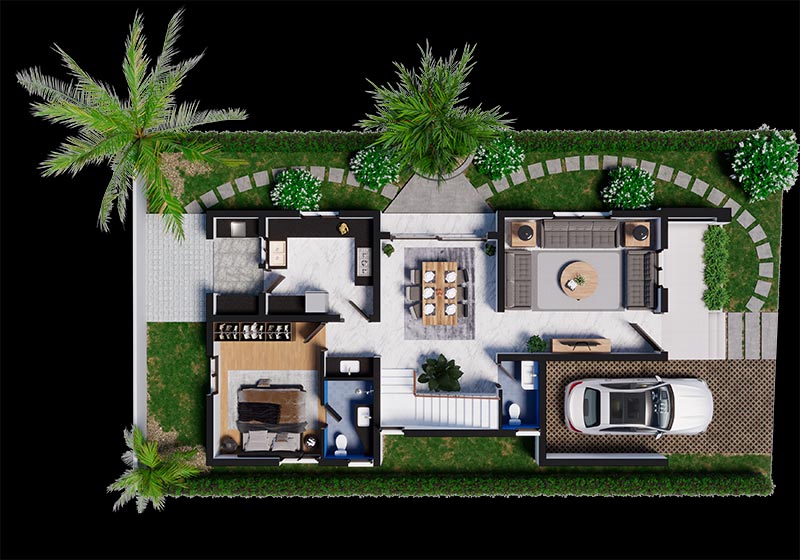 3D Floor Plans are perspective equals of 2D floor plans with depth or height incorporated, created to provide a visual 3D experience of the plan under design and consideration. All other components of the floor plan, namely furnishings, also have their three dimensions depicted to provide a 3D visual treat for our eyes.
This user experience is what a human eye perceives and extrapolates when seeing a physical object, element, or space. In simple builder's terminology, it is called the three-dimensional view of the space under study or context.
2D Floor plans of a building under design have length and breadth defined for each space that is being created, telling us its actual user area. Adding to that the third dimension of height or depth will elevate the visual stimuli for that space. This forms the basis for 3D Floor Plans.
Please visit our 3D Floor Plan Rendering Gallery to see more of our 3D Floor Plan Perspective-related work.
Still, have some unanswered questions? If you need more clarifications on the go-to methodology before giving our Architectural Visualization Studio your project, please refer to the Frequently Asked Questions "FAQ" section. Alternatively, you can also reach out to us through our Social Media Handles by clicking on the Contact Us page. A Sample Blog post of a 3D Floor Plan Rendering can be seen by clicking here.
For more samples of our past works please visit:
3D Exterior Visualization, 3D Interior Visualization, 3D Exterior PhotoMontage, 3D Interior Animation, 3D Floor Plan
3DArchPreVision | Portfolio | 3D Architectural Visualization Services | Consolidated 3D Gallery Presentation
May 1, 2023