Architectural PreVision – Exterior Visualization Renders / 3D Architectural Rendering India

3D Architectural Visualization Studio based in Chennai, India, provides 3D Exterior Visualization, 3D Exterior Architectural Rendering India, 3D Exterior Rendering, 3D Photo Realistic Exterior Views in India and across the globe.
The various steps involved in creating the 3D Exterior Model / 3D Exterior Rendering / 3D Exterior Visualization are:
We receive the project requirements and materials from the client as DWG, DXF, PDF or Hand Drawn Sketches.
Convert the 2D drawings to 3D exterior model to produce the 3D Exterior Visualization.
Apply colors, materials & textures suggested by the client to the model.
Stimulate life-like day / night lighting conditions based on the project requirement.
Shadows and reflections to achieve photo realism are then generated.
Elements such as foliage, vegetation, furniture, vehicles, clouds etc are added for the final picture perfect 3D Architectural Visualization.
We will send the first set of draft 3D Architectural Exterior Renderings for your approval / feedback, with watermarking.
Update these 3D Architectural Visualizations / render(s) based on the feedback received from the client till their final approval.
We will render the final high resolution 3D image upon approval and deliver it.
For more details, please refer to the "Frequently Asked Query" Section.
Please note that 3D models made in SketchUp, ArchiCAD & sketches etc supplied by the client are also acceptable in making Architectural Exterior Render. We will reduce the cost of the project accordingly.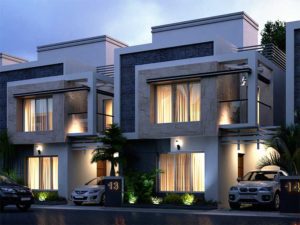 We have worked on a variety of Architectural Exterior Rendering projects which include single family residences, large scale multi-family residential developments, commercial developments, religious buildings, institutional buildings etc.
3D Architectural PreVision is spearheaded by a professionally qualified design architect. We have been totally committed to quality and innovation for the last 11 years. We employ latest Software Technologies which include AutoDesk Design Suite 2016, V-Ray 3.5 and Adobe Creative Cloud softwares thus enhancing quality of the final output.
Please visit our blog section to see the evolution of the final images of an apartment project we worked on.