3DArchPreVision – 3D Architectural Visualization Services & Rendering Company.
We are a 3D Architectural Visualization Services & Rendering Company. 3D Architectural Visualization, 3D Exterior Rendering, 3D Interior Rendering are graphical modes of 3D computer simulation of an architectural design with its interiors and exterior design aspects. 3D renderings plays a major role in real estate sales. It makes it possible to make design related decisions well before the building is actually built. Thus architectural 3D renderings helps experimenting with building design and its visual aspects. Architects and designers use 3D Renderings to communicate their ideas with their clients. Architectural Visualization will help you ensure the customer invests no money in conceptualizing planned projects.
We offers you a wide range of Photo-Realistic 3D Architectural Visualization Services such as:
Our 3D Architectural Visualization Services cum 3D Renderings will help you to:

Turn your ideas into reality by adapting any object with it micro detailing work.
Create and place all object's by means of photos, pictures, overall volumes etc.
Create all your bold and difficult ideas in the field of architectural visualization.
Complete your order with good quality and on time.
Why choose our company for 3D Architectural Visualization Services?
When you choose us, you will get a:
Realistic picture of what you want to build.
Increase your sales volume by attracting new customers.
3D Architectural Visualization Services – Exterior Rendering:
3D exterior rendering is usually created at the conceptual stages of the of a project. It helps to simplify the interaction between the architect and the project owners, investors or customers.
3D exterior visualization of a building will show you all the future construction benefits and drawbacks. It estimates the architectural advantages and correspondence with the surrounding redevelopment areas.
You can also show your investors or prospective clients a graphical model of your project for observation. This will help your prospective clients to quickly reach a decision on buying or investments. This makes architectural visualization an effective marketing apparatus and design tool.
Please visit Exterior Visualization here for more of our past works.
3D Architectural Visualization Services –
Interior Rendering: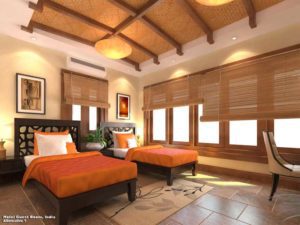 Interior Architectural Visualization is the art of hypothetically creating an imagery of a planned interiors of a building space as defined by the client's requirement and envisaged by an architect or interior designer keeping the client's parameters in check and given a digital form by a CG Visualizer as per the inputs provided by the client's design team. This form of visual cum virtual design bring with it zero investments on actual execution, thereby ensuring no cost over-runs occur during ill planned execution stage and client's inability to perceive final outcome of the interior space being designed.
Please visit our 3D Interior Renderings page to see our work samples.
For more queries please refer our Frequently Asked Query page. Please feel free to revert for more details.
3D Architectural PreVision is spearheaded by a professionally qualified design architect. We have been totally committed to quality and innovation for the last 11 years. We employ latest Software Technologies which include AutoDesk Design Suite 2016, V-Ray 3.5 and Adobe Creative Cloud, softwares thus enhancing quality of the final output.